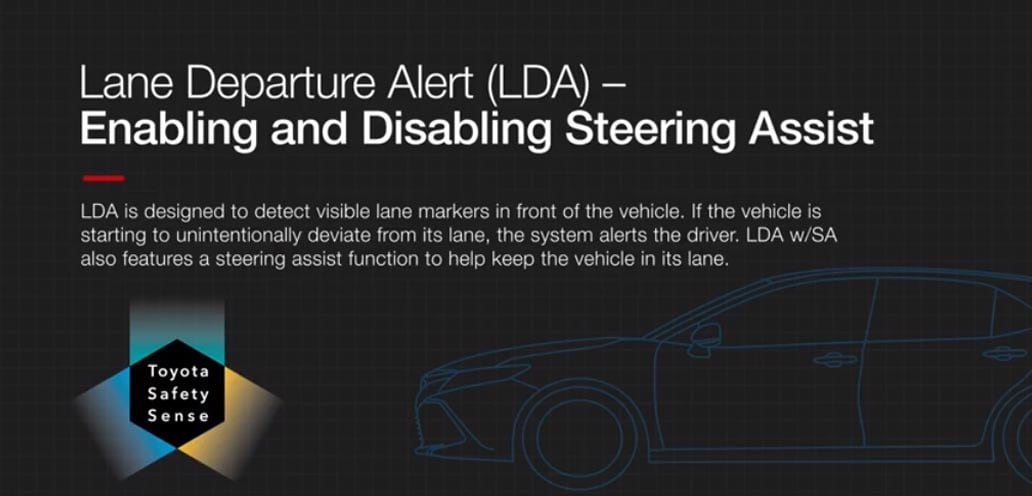 Every new Toyota that hits the market is simply jam-packed with exciting technology and gadgets. For drivers that want to stay safe on the road, there is perhaps no feature that is more important than Toyota's steering assist. This remarkable piece of tech helps to keep you from straying out of your lane while driving. However, there may come a time when you wish to switch this feature off for a while - so let's take a few minutes to learn exactly how to do just that.
Turning Toyota Steering Assist On & Off

The first thing to note about Toyota steering assist is that its default setting is to be turned on. As such, if you want to make use of the feature, you won't need to take any action. However, if you wish to switch it off, the process is fairly straightforward.
The first step to take is to click the up or down arrow on the left-hand side of your steering wheel. This will allow you to scroll to the settings menu (the gear icon) on your Toyota's multi-information display. You can then use the left or right arrows to move to the Lane Departure menu - the icon looks like a car straying from its lane.
Next, you must hold the OK button for a period of 1.5 seconds in order to begin making changes to your Lane Departure settings. You will need to scroll to the top of the Lane Departure menu to choose the Steering Assist and click OK to change its status. If it was previously turned on then clicking OK will switch it off. Of course, if it was already turned off then clicking OK will switch it back on again.
Once you have made your changes you will be able to exit out of the menu and get back to the road.
Visit Vandergriff Toyota Today!
If you are having trouble figuring out your Toyota's steering assist functionality, the team here at Vandergriff Toyota is always happy to help. Simply stop by the showroom during regular business hours and one of our representatives will be able to resolve your problem and answer any questions that you might have about your vehicle.