2012 Toyota Prius Introduction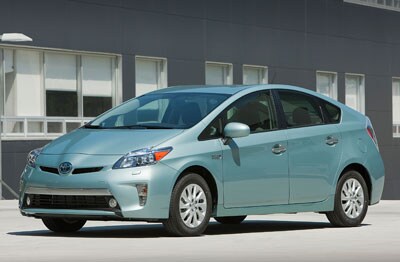 The 2012 Toyota Prius Liftback comes in hybrid and plug-in hybrid versions. A traditional hybrid-powered car such as the Prius is propelled by the combination of an electric motor (or motors) and a gasoline engine; it cannot be plugged in; the motor's batteries are recharged by the gasoline engine.
However, the 2012 Prius Plug-in Hybrid can also be recharged to extend the range of its electric power by plugging it into your house current.
While the Prius uses nickel metal hydride (NiMH) batteries, the Prius Plug-in Hybrid employs newly developed lithium ion (Li-ion) batteries. Both versions use Toyota's Hybrid Synergy Drive powertrain. The Prius Plug-in Hybrid will allow true electric-vehicle, or EV, operation for up to 15 miles at speeds up to 62 mph, according to Toyota, along with quick home charging using a standard AC outlet and 15-amp dedicated circuit. The Plug-in Hybrid comes with an easy-to-use external charging cable, but you'll want an electrician to set up a dedicated charging circuit for your garage or driveway. Operating in EV mode, the Prius Plug-in Hybrid provides the quick, smooth, quiet driving of a pure electric vehicle. the Prius Plug-in Hybrid offers the same five-passenger seating and luggage space as the standard Prius Liftback. The lithium ion batteries mean the Plug-in Hybrid weighs about 100 poinds more than the standard Prius. The two versions are otherwise nearly identical.
The Prius gets an EPA-rated 51/48 mpg City/Highway, for a Combined rating of 50 mpg. It runs on Regular gasoline.
The Prius Plug-in Hybrid is rated 51/49 mpg City/Highway, or 50 mpg Combined, though the federal Environmental Protection Agency also gives it a rating of 95 miles per gallon equivalent, or MPGe, for an Electricity plus Gasoline Combined rating. The EPA estimates owners will spend $1,000 a year on gasoline for the Prius Plug-In Hybrid versus $1,150 for a garden variety Prius.
Due to its sales and promotional success, the Prius model name has evolved to become a brand name extended to the larger Prius v wagon and the smaller Prius c compact. It's all very confusing, with three different body styles and a choice of drivetrains all going under the Prius name. Fortunately, we sort it out for you with reviews of the Prius v and Prius c separate from the Prius Liftback models covered here. When it's just called the Prius, it's the original Liftback that can't be plugged in.
The Prius Liftback is capable of seating five, four comfortably. Though classified as a midsize car by the U.S. government, the Prius Liftback looks and feels more like a large compact car to us. When we think of midsize Toyota models, we think of the Toyota Camry. The Toyota Corolla is nearly four inches longer in overall length than the Prius and it's wider; the Camry is 13 inches longer than the Prius and three inches wider, a huge difference. Add to that the hatchback design of the Prius, which makes it look like a compact car. Underway, its ride quality, handling, levels of noise, vibration and harshness, and overall demeanor make the Prius feel like a compact car.
The current Prius is a third-generation car. More than 1 million examples have been sold in the United States since the introduction of the first-generation model was introduced here in 2000 as a 2001 model. (It was first launched in Japan in 1997.) The Toyota Prius was redesigned for 2010, sleeker and more powerful than the second-generation version (2004-2009 models). Prius was unchanged for 2011.
For 2012, Prius gets updated styling and an expansion of Toyota Entune connectivity features. Updated headlights and tail lights plus a new front fascia and bumper distinguish the 2012 Prius from the 2010-11 models.
The Prius models use a 1.8-liter gasoline engine along with the Permanent Magnet Synchronous Motor. Acceleration performance from the Prius is lethargic: 0 to 60 mph in 9.8 seconds. The CVT, or continuously variable transmission, is smooth.
There are three driving modes: EV, ECO and Power. EV is all electric, for very short distances at speeds under 25 mph; ECO provides the best fuel mileage, without noticeably compromising performance; and Power, the default mode, is needed for brisk acceleration.
Driving a Prius is easy. Handling is easy if not nimble at slow speeds, and the brakes are sensitive while being stacked with electronic capabilities for safety. The ride feels stiff over jagged slow bumps but smooth in most situation. Interior noise is surprisingly high despite increased sound insulation. Many owners might not notice, but others will.
In the back seats, there's 36 inches of legroom, not great for a midsize car, though we view the Prius as a compact car, and the 60/40 split rear seats have a folding center armrest with two cupholders, for when there's not a third passenger back there.
Cargo space is generous with nearly 40 cubic feet of capacity when the back seats are dropped flat, and the big liftgate makes loading easy.
Prius comes loaded with technology. The Touch Tracer Display projects information before your eyes, so you can keep them on the road. Input comes from the pilot at the controls on the steering wheel, including not just audio and cruise control, but also climate control and trip computer, with telephone and other controls available. A solar-powered ventilation system is available, with remote pre-cooling to cool the car down to ambient temperature before you climb in on a hot day. There's a warning beep when you're unsteady in your lane; radar cruise control; Intelligent Parking Assist that will parallel park the Prius with no steering or throttle input from the driver; and pre-collision emergency braking to slightly reduce the impact when you don't see an accident coming but the car's radar does.
The Chevrolet Volt feels more like a midsize car and it feels more sophisticated and more upscale than the Prius does. The Prius feels lighter and more refined than the all-electric Nissan Leaf does.
*The prices and incentives shown above may vary from region to region and are subject to change. Inventory is subject to prior sale. Vehicle information is based on standard equipment and may vary from vehicle to vehicle. Please contact us via phone or email for specific vehicle information. All prices plus tax, title, license and documentation fee of $150. Any discounted prices may include rebates. All rebates from Toyota or Toyota Financial. Dealer is not responsible for errors or omissions.