​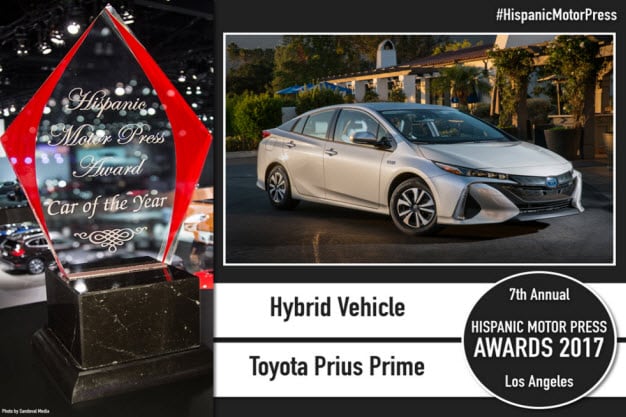 We are pleased to announce that the 2017 Prius Prime has been named one of the Best Cars of 2017 during this year's Hispanic Motor Press Awards. The electric hybrid was a clear choice for an award due to its positive environmental impact.
"The automobile is changing and environmental concerns are in front of us every day," said Rodriguez-Long, jury director at Toyota & Hispanic Motor Press. "Minimizing fossil fuel is one area that young Hispanics are embracing. Recyclable materials, powertrain efficiency and connectivity are a must in today's vehicles. The Prius Prime is the best example of the evolution of the automobile and we highly recommend this hybrid for the family."
Test drives, affordability and market availability are just a few of the factors used to determine which cars would receive Hispanic Motor Press Awards this year. Judges also took performance, comfort, safety, design, driver satisfaction and functionality into consideration before selecting winners. We're happy to say that the 2017 Prius Prime met the mark and was able to take home a coveted accolade.
A 640-mile driving range is achieved behind the wheel of the Prius Prime. On electric power, drivers can travel up to 25 miles at 84 mph. As of now, the Prius Prime is not yet available in Texas, but we look forward to its arrival in the future.