For most drivers, getting their brakes serviced might seem like a mundane task; however, it is one of the most essential components of your car.
No matter if you're driving a new Toyota Camry, Toyota Tundra, or other make/model, you should pay close attention to how your brakes are performing. Why, you ask? Worn-out brake pads can lead to severe damage to your vehicle's rotors, which can be very costly to fix. More importantly, if your brakes are not working the way they should be, you could jeopardize your and your passenger's safety out on the road.
WHEN SHOULD I HAVE MY BRAKES CHECKED?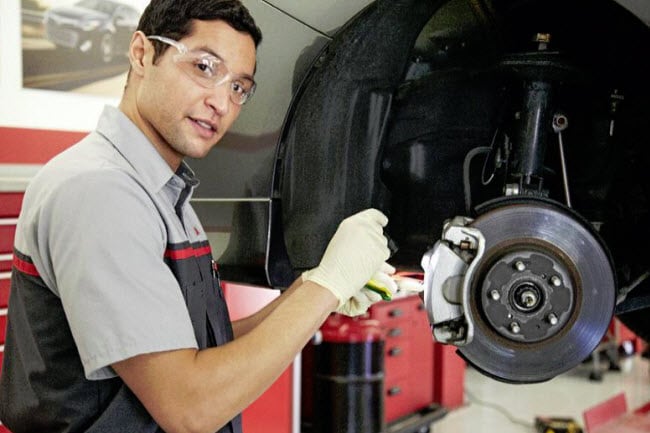 This is one of the top questions for many drivers. We recommend having your brakes checked every 12,000 to 15,000 miles. However, if you find yourself driving in heavy traffic regularly, you might want to have your brakes checked even sooner. If you follow these service intervals, your vehicle will most likely only need its brake fluid and/or pads replaced every few years.
If you're still unsure, please contact us or stop by our onsite service department, and one of our friendly service technicians will be happy to create a detailed maintenance schedule for you.
HOW TO TELL IF SOMETHING IS WRONG
There are many ways to find out if your vehicle requires brake repair. First, look between your wheel spokes to get a glimpse of your brake pads. In general, there should be a quarter-inch of a pad. If you see anything less than that, it usually means you need new brake pads. Here are some other common warning signs to watch out for:
You hear a loud squealing noise when brakes are applied

Your car, truck, van, or SUV pulls to one side while stopping

You feel significant vibration when coming to a stop sign

Your vehicle pulls to one side as you apply the brake

Your steering wheel shakes when braking
CHOOSE A CERTIFIED SHOP FOR BRAKE REPAIR IN ARLINGTON, TEXAS
With so many brake repair shops to choose from, it can be difficult to decide which one is best for you and your car. At Vandergriff Toyota, we offer outstanding customer service and top-notch car repair. Here, you'll feel confident in knowing your vehicle is in good hands with our factory-trained service techs. We also offer affordable prices and service coupons to help you save even more money on all your car maintenance needs. We hope to see you soon!
BRAKE SPECIALS AT VANDERGRIFF TOYOTA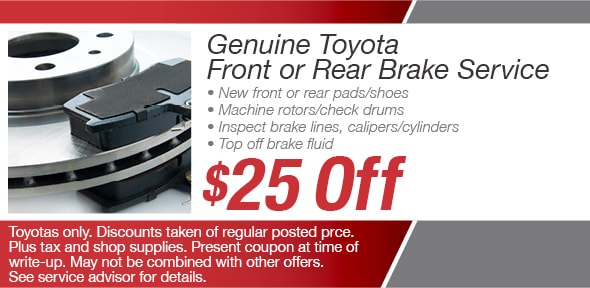 Coupon not valid with any other offer. Must present coupon at time of purchase. Limit one coupon per person. Coupon does not apply to prior purchases. Other Restrictions may apply. Void where prohibited. Offer Expires