The Importance of Tire Maintenance
FInd out the benefits of having your Toyota's tires serviced in this helpful video.
If you're in search of a trusted tire shop near the Dallas-Fort Worth Metroplex, look no further than Vandergriff Toyota. Our onsite service center is equipped with the tools necessary to handle a range of tire services and our team of certified service technicians have the skills to complete each job. Whether you need new tires, tire repair or routine tire maintenance, we can help. Just schedule an appointment online and a representative will reach out to you shortly.
How Often Should I Receive Tire Service in Arlington?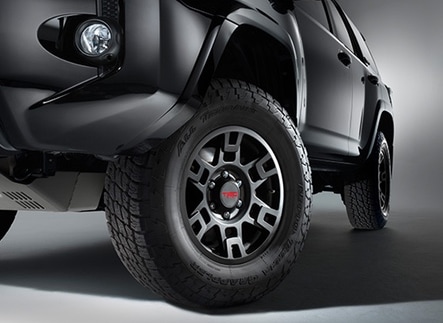 Keeping your vehicle in tip top condition is vital to its performance. With this in mind, we recommend all Toyota owners to have their tires serviced annually to prevent premature wear and prolong the lifespan of their tires. By simply obtaining a routine wheel alignment or tire rotation near Dallas, you can help keep your car running smoothly. When taking your car to our dealership for service, we'll also check your air pressure and make sure your tires are inflated to the proper psi. According to the National Highway Traffic Safety Administration, almost 11,000 car accidents a year are caused by tire failure, which is why tire service is an important part of maintaining your car.
Contact us
if you have any questions regarding our services and we'll gladly assist you.
Tire Damage - Here Are the Signs
Think you may have tire damage? Look out for these signs:
Vibration
Steering wheel vibration is a common sign your tires could be damaged. If you notice any vibrations while on the road, bring your car in to our service center to be assessed as soon as possible.
Tread Wear
Use the penny test to determine if the tread on your tires is too low. Place the coin in the tread with Lincoln's head pointing down. If you can still see the top of his head, it's time for new tires.
Cracks or Bulging
Cracks and bulging are often signs of tire damage. You could have a slow air leak or internal damage that needs to be addressed immediately. These issues can also be caused by foreign objects puncturing your tires, such as rocks or nails.
Toyota Tires for Sale Near Fort Worth
Vandergriff Toyota offers a wide assortment of tires for sale near Fort Worth. If you need new Firestone tires, Michelin tires, Bridgestone tires or Goodyear tires, don't hesitate to visit our dealership. Unlike many discount tire shops, our team is factory-trained and has the knowledge to find the right tires for your Toyota model. Whether you need performance tires or run flat tires, we can help. Check out or tire store for more information.
Tire Specials at Vandergriff Toyota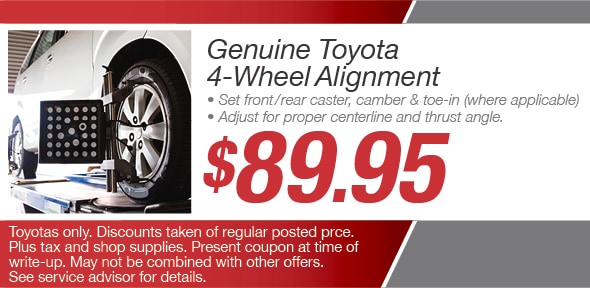 Coupon not valid with any other offer. Must present coupon at time of purchase. Limit one coupon per person. Coupon does not apply to prior purchases. Other Restrictions may apply. Void where prohibited. Offer Expires
Service Hours
Monday

7:00am-7:00pm

Tuesday

7:00am-7:00pm

Wednesday

7:00am-7:00pm

Thursday

7:00am-7:00pm

Friday

7:00am-7:00pm

Saturday

7:30am-5:00pm

Sunday

Closed