Toyota Transmission Repair & Maintenance
Toyota is an automobile manufacturer that people know and trust. The brand has provided the world with many great cars over the years and is considered one of the top manufacturers in the world. But, problems can occur with your Toyota vehicle, including issues with the transmission. This should only be expected as the vehicle ages and wear and tear occur. Preventative maintenance is the best way to prolong the durability and lifetime of the transmission in your car. When signs of transmission trouble arise, pay attention and call us at Toyota Vandergriff in Arlington, TX to schedule service. Don't ignore the problems hopeful they'll go away. They'll only produce more problems that cost more money to repair. Use the information below to help keep your transmission working its best all year long.
When Should I Change My Transmission Fluid?
Refer to your vehicle operator's manual to learn the recommended schedule for transmission fluid changes and follow these guidelines to keep your vehicle operating efficiently. We recommend (as do most vehicle manufacturer) that the transmission fluid is changed once every three-years or every 36,000 miles you drive the vehicle.
What Does Transmission Fluid Look Like?

There are several different types of fluid inside the car, so it may not always be easy to distinguish between them. Transmission fluid is reddish brown in color. It has an agent added to it that creates this color. It is fairly easy to distinguish oil from transmission fluid.
What are the Signs of a Transmission Problem?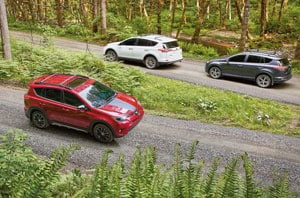 Many signs point to transmission trouble. Do not ignore these signs, which include trouble shifting gears, leaking fluid, loud noises, and a burning smell. The sooner you schedule the service, the sooner you can drive from point A to point B without worry.
Can I Drive My Car With a Transmission Leak?
You can drive the vehicle with a transmission leak but you probably shouldn't. Without proper transmission fluid levels in the vehicle, the transmission suffers and may endure massive wear and tear that costs thousands of dollars in damages. The vehicle certainly will offer poor performance if it is driven when there is a transmission leak.
How Much Does Transmission Repair Cost?
Transmission service costs vary from one job to another. There are many factors that influence the cost of the job. This includes the type of service that you need and the type of vehicle you operate. Request estimates to learn the exact costs of service for your transmission troubles and service needs.
Service Hours
Monday

7:00am-7:00pm

Tuesday

7:00am-7:00pm

Wednesday

7:00am-7:00pm

Thursday

7:00am-7:00pm

Friday

7:00am-7:00pm

Saturday

7:30am-5:00pm

Sunday

Closed