Prominent Specs for the Toyota 4Runner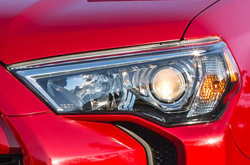 We're certain that the 4Runner is perfectly designed for you. That's why we offer tools that will allow you to compare Toyota's latest model to the 2014 Dodge Durango, Chevrolet Traverse, Jeep Grand Cherokee, Nissan Pathfinder, Honda Pilot and the Hyundai Veracruz. TX shoppers will be smitten with the 4Runner's leading-edge features and cut-rate sticker price. When comparing its price to the aforementioned vehicles you will undoubtedly see that Dallas Toyota customers select it because it's a phenomenal value. Find out more - Take a look at the bullets below!
2014 Toyota 4Runner 0-60 MPH in 7.6 seconds
2014 Toyota 4Runner MSRP: $32,820
2014 Toyota 4Runner Seats: 5 passengers
2014 Toyota 4Runner Body Style(s): SUV
2014 Toyota 4Runner Doors: 4-door
2014 Toyota 4Runner Cargo Space: 46.3 cubic feet
2014 Toyota 4Runner MPG: 17 city / 22 highway
2014 Toyota 4Runner Colors: Megnetic Grey, Salsa Red, Black, etc...