What's New For the 2020 Toyota Prius?
The Toyota Prius has many new features available, especially in its hatchback model. The vehicle will have technological advancements in the hatchback allowing for Apple CarPlay and Amazon Alexa to be compatible with all models. The L Eco, LE, and XLE trims will have a seven-inch touchscreen that is standard. Prius Prime is available for SiriusXM radio, Apple CarPlay connectivity, and Amazon Alexa connectivity. There is the option for a three-seat rear bench seat and USB charging ports in the rear of the vehicle.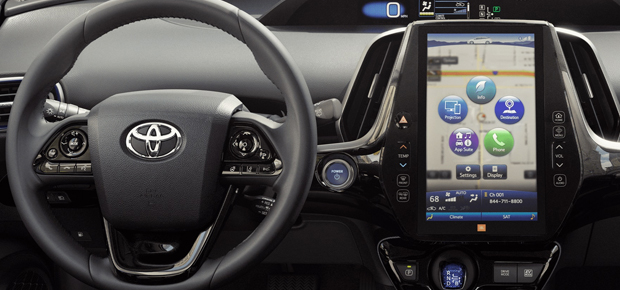 2020 Toyota Prius Trims and Features
There are seven colors available among the trims of the Toyota Prius. Every Prius will come with a battery warranty that covers ten years from purchase or 150,000 miles. Prius does have many great driving features that are available among most, if not all, models and trims.
The Prius has up to 65.5 cubic feet of cargo space when the rear seats are folding down. There are also crossbars to support the area. All-wheel drive-e capabilities are also available on all models.
Each infotainment screen in the Prius trims are at least 7 inches, and there are options for Premium JBL audio in all models. There is also a heads up display available that broadcasts information onto the windshield during your driving experience. Finally, the exterior remains stylish in a way that has excellent fuel economy standards.
There are six trims and models of the Toyota Prius: L Eco, the LE, the XLE, XLE AWD-e, the Limited, and the LE AWD-e. Each has Apple CarPlay capabilities. Each has different capabilities and features.
The L Eco trim offers fifteen-inch alloy wheels. It has a 7-inch infotainment display and two rear USB ports. You are able to have up to 27.4 cubic feet of space.
The LE offers more advanced driver assistant technologies. It offers 24.6 cubic feet of cargo space. It does offer the same features that the L Eco offers in terms of the infotainment system and wheels.
The next option is the XLE. The XLE has seventeen-inch alloy wheels with a titanium finish. The front seats are able to be heated and are eight-way adjustable with lumbar support. There are wireless smartphone charging and automatic windshield wipers. The steering wheel is also heated, and there are push-button start capabilities.
The Limited trim offers adaptive front lights that auto-adjust. The wheels are seventeen-inch alloy wheels with titanium designs. There is JBL audio included with navigational features, and the touchscreen is 11.6 inches. The head-up display is also utilized in this trim.
The LE AWD-e has all-wheel-drive capabilities. It has fifteen-inch alloy wheels that are two-tone. There are LED fog and accent lights, and a similar infotainment screen to the above-mentioned model. This vehicle can hold up to 24.6 square feet of cargo.
The final trim is the XLE AWD-e. This vehicle also has all-wheel drive capabilities. It has a heated steering wheel and heated seats. There is a similar infotainment screen to the above models, and there is wireless charging available for your smartphone.
2020 Toyota Prius Horsepower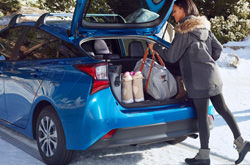 All L Eco models offer 1.7-liter, four-cylinder hybrid engines. The LE and XLE models offer 1.8-liter four-cylinder hybrid engines. The horsepower available on all standard models is 121 horsepower.
2020 Toyota Prius Safety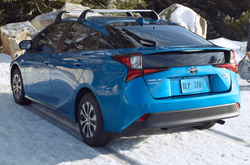 The Toyota Prius has excellent driver assistant technologies, including pedestrian detection and cruise control. There is also lane keep assist. Finally, the automatic lighting can assist in safety, as well as the heads up display.
Prius Questions
Prius News
You are viewing all posts for categories: Prius