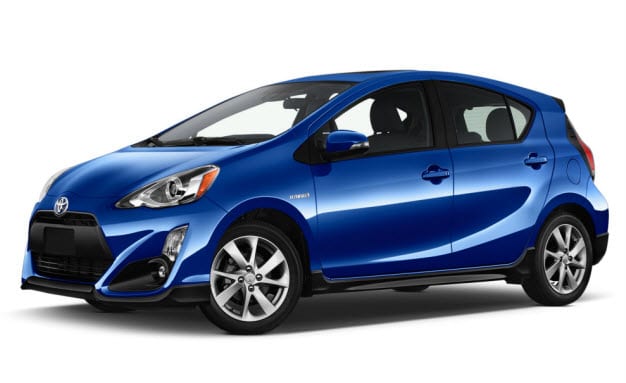 The incoming 2017 Toyota Prius c is heading to Vandergriff Toyota later this year with a few updates. The hybrid's exterior styling has been slightly modified to keep up with the ever-changing tastes of modern car buyers, and a new batch of safety equipment has become standard across the lineup.
If you're a fan of the Prius c, you're sure to appreciate the changes made to its exterior design this year. The car's front fascia, side rocker panels and rear bumper have all been redesigned, and a new black spoiler sits on the rear of the vehicle. Alloy wheels have also become standard throughout the lineup, enhancing the c's appearance.
On the safety front, the 2017 Prius c now comes standard with Toyota Safety Sense-C. The package includes Pre-collision System, Lane Departure Alert and Automatic High Beams.
Pre-collision System
With Pre-collision System, a camera and laser beam are used to detect potential collisions, and visual and audio alerts are utilized to warn drivers. If the driver does not react, Brake Assist can be used to automatically apply the car's brakes.
Lane Departure Alert
Lane Departure Alert notifies drivers when they are deviating from their lane. A camera is used to detect when this occurs.
Automatic High Beams
The Automatic High Beam system uses an in-vehicle camera to detect the headlights of oncoming car or the taillights of cars behind your vehicle, and switches between low- and high-beams accordingly.
If you'd like to learn more about these features and more, be sure to check out the 2017 Toyota Prius c when it arrives in Arlington!